Hi gang, hump day is upon us! Another month has flown by Good by August!
John Milton. (1608–1674) (continued) 2508 For who would lose,
Though of pain this intellectual being,
Those thoughts that wander through eternity,
To perish rather, swallow'd up and lost
In the wide womb of uncreated night? Paradise Lost. Book ii. Line 146.
The excitement and uncertainties of tomorrow, ready or not here they come. I have always loved September as an adult but as a student I sure didn't like it. It mint back to school, summer is over.
Tonight I am thinking of endings and beginnings. I read this the other day. The world mourns its greatest LOVER!
The death of silent film actor Rudolph Valentino in August 1926 caused a worldwide frenzy among his fans. Countless women idolized Valentino, who appeared in only 14 major films during his brief seven-year movie career, as the "Great Lover" of the 1920s. Born in 1895 in Castellaneta, Italy, Rodolfo di Valentina D'Antonguolla came to America in 1913 and worked as a gardener, dishwasher and vaudeville dancer until he moved to Hollywood and obtained his first important film role in 1921. In films like 1921's The Sheik, Valentino mesmerized female fans with his sex appeal and exotic good looks. In New York for the 1926 premiere of Son of the Sheik, the 31-year-old Valentino became ill on August 15 and died of peritonitis on August 23. Valentino's death caused worldwide hysteria, with several women reportedly committing suicide and riots breaking out in New York as thousands of fans tried to view the body.

Has love changed séance the twenties? I don't think so. It has a hole new Dimension. Ladies of all ages still love their men. Some more than others.
Men cherish this! There is nothing better than to be hoodooed by the girls! Here's a look at our modern day beefcake, courtesy of our U.S. Navy.
Ok girls! Don't say I never give you any thing new!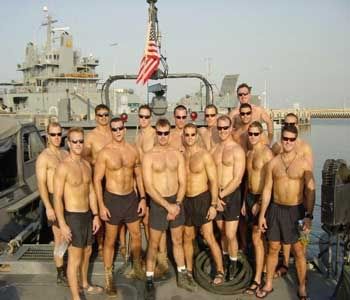 I can't forget the guys. This is for you to keep track of the days!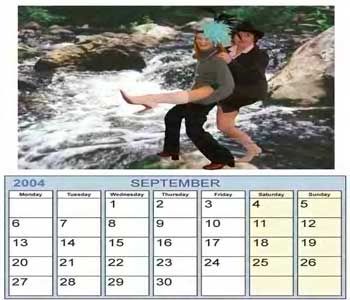 Thought for the day, I am reminded of the old song" I'll see you in September"!
Word for the day; Septillion.