Hi gang, the week is flying! Has every one had a good one so far? Before I forget about it, jump over to
Michelle's
and wish her a happy holiday. She's getting ready to head out to Norway. It would be nice if we could meet her there. What has every one been up to? I have not gotten around to every one today.
Has anyone herd from Brian. I have not heard from him since he moved to Oklahoma. He may be still getting settled. Also have not heard from David at oceanlander. I think this time of the year it is hard to keep any kind of a schedule.
I wont to get back to letting you guys see some of the area I live in. I started out posting area seams on Sunday. I don't know what happened. Anyway, tonight I am starting back with our Old Tavern!
THE OLD TAVERN
2800 28th Ave.
The Old Tavern has been a fixture in downtown Tuscaloosa since the time of the capital era. Innkeeper William Dunton built the structure in 1827 three blocks from its current site as a tavern and hotel on the stagecoach route that passed through Tuscaloosa. One of the few remaining nineteenth-century inns in the state, the Old Tavern provides visitors with a rare glimpse of early Tuscaloosa commercial architecture. During its operation as a hostelry, it served as the temporary home and meeting place of legislators, Confederate soldiers, and countless people traveling to or through the city. At one time, it was even the temporary home of Governor John Gayle (1831-1835).
From 1882 to 1964, several local families occupied the structure as a private residence. The Tuscaloosa County Preservation Society acquired it through a deed in 1964. It was shortly relocated, and TCPS began a much-needed restoration on the tavern. Today the Old Tavern is a museum showcasing the early history of Tuscaloosa County and serves as the headquarters for the Preservation Society. The Society's Research Library is also housed here.
Admission is free to public Tue. -Fri. 8:30-4:30.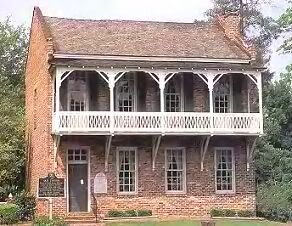 Thought for the day, have you ever thought about how special you are? There will never be another you!
Word for the day; Spikenard