Hi gang can you hear me now? We have made it to the downhill run. I hope every one has a lot of planes for the weekend. I never use to plane any thing, something always came up and there goes the planes! I think it is still a good idea to plane ahead. Have some kind of a goal to accomplish that way you will feel real good for getting every thing done or bad that that you didn't. Two choices didn't or did!
I think that is one of our biggest problems. We have to many choices. I hate to go into a store. Or buy paint! OMG! How many colors can there possibly be? The old Henry Ford Policy is sounding better and better. "Give them a choice of colors, any thing they want in BLACK"!
Why do we have to have a new model anything every year? At the rate we are going we will be a new model every year. A new program, a new you! Sounds far fetched, don't think so. Why waste all those years going to school? The coming technology will alter your genes and make you a doctor, a baker, or candlestick maker.
I ran across an article today on one of my favorite actress. She was out standing in The Matrix. She has been a busy lady as of late.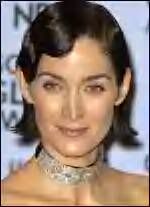 Biography
Exhibiting both grit and steely, almost otherworldly beauty, Canadian actress Carrie-Anne Moss rapidly ascended from obscurity to international stardom as the latex-clad cyber warrior Trinity in the Wachowski brothers' The Matrix. Moss' striking performance led many viewers to question where she had been all these years; like many other fledgling Hollywood actresses, she had done time as a model and an actress in second-rate films while waiting for her big break. Born in Vancouver, British Columbia, on August 21, 1967, Moss decided that she wanted to be an actress at an early age. The younger of two children raised by a single mother, she grew up taking acting classes, and at the age of 20, she left Canada to pursue a career as a model. During a modeling stint in Spain, Moss managed to land a role on the TV serial Dark Justice. Upon her return to North America, she moved to L.A. and was cast on the Aaron Spelling series Models Inc. After making her film debut in 1996's Sabotage, Moss continued to do TV work (most notably on the Toronto-based F/X: The Series) and appeared in fairly obscure films. Thanks to her starring role in The Matrix in 1999, Moss was soon in great demand. In 2000 alone, she could be seen in no less than four films, including the action comedy The Crew, Red Planet, and as a bartender with questionable motives in director Christopher Nolan's unconventional breakthrough, Memento. Subsequently taking another stab at sci-fi opposite Val Kilmer in Red Planet, Moss would next appear in Lasse Hallstrom's romantic drama Chocolat before stepping back into her vinyl bodysuit for The Matrix Reloaded and The Matrix Revolutions (both 2003). ~ Rebecca Flint, All Movie Guide
Thought for the day, the possibilities in the future are unlimited.
Word for the day; Fiord.