Hi gang, Mondays are not bad if you get to play golf like I did! Hope every one has had a great day. We had a heavy due this morning and my feet were wet the whole round. The course never did dry out overcast most of the day. It was tough but some one had to do it right!
I am still playing catch up. I have had things to share and I forget about it when I start talking to you guys. So tonight I wont to stat getting some of the articles to you. First for to night, did you guys see the ruling on the beach basketball at the Olympics? This one sort of fall by the way side I wander of the tag on your bikini was exposed if that would be advertising?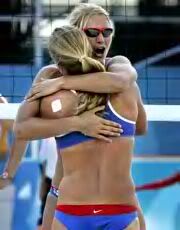 IOC reacts to the birth control patches Susanne Glesnes (right) and Kathrine Maaseide have been using during the Olympics. Now the beach volleyball duo has to manage without.
placed their patches very visible on their shoulders, and it has been noted.
After being informed of the issue, Gerhard Heiberg, board member in the IOC, reacted because according to the rules in the Olympics, it is illegal to advertise for products during the Olympics games.
«This is a problem in both sand volleyball and in volleyball, and we have to stop it,» Heiberg said to ANB. «There is a strict ban on this.»
Thought for the day, I saw deer tracks on the golf course today and could séance their presences!
Word for the day; Demesne.