My Get Up and Go, Got Up and Went
Hi gang, Tuesday is clipping right along. I worked in the room just about all day yesterday. My son installed me a new light & fan and Shelley and I put together a new computer desk. The desk had a million pieces to it. My power driver was down with a dead battery. Someone forgot to charge it back up the last time it was used. So it was all done by hand, I have a big blister in the center of my hand
Megan came home yesterday and didn't say a word. Her mom must have told her not to say anything. Any way Tina has done nothing but run her dad around for the last two days. So far I have not seen him.
I had a nice e-mail from my daughter in Chicago she sent pix of there Valentine dance. I miss her so much. Wish they were closer. They have talked of building in Tennessee.
Also I ran across an art- work that Critter Chick will like so I am posting it to…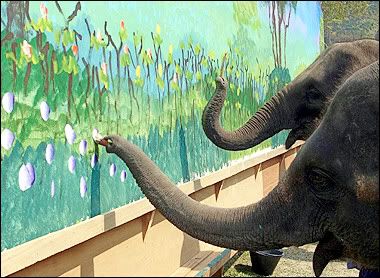 Elephants paint on the canvas during new Guinness record attempt of most expensive paint by elephants at Maesa elephant camp in Chiang Mai province northern Thailand. (AFP/File)
Thought for the day, that old saying "you can't teach an old dog new tricks" is foiled. I learn something every day!