Hi gang well I did get to ply golf today. It hit 90* and I shot 90. Now if I could just shoot my age!
Are you ready for some FOOT BALL! Big game tonight Miami and Fl. State. Should be a good game.
Alabama is hosting Old Miss. Tomorrow night. They stepped on us last year. Maybe this year will be pay back.
The last I heard Mike Weir was leading in the Canadian Bell south classic. I don't know any one in Ontario? Looks like a nice course. The 18th hole would do me in. Long carry over water to the green.
I am sure by now all of you have seen our 260 million dollar hole in the ground.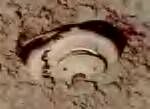 I heard to day that they think all were not damaged! I wander what Nasa official was told to say that! Oh well it is just money. We are going to find out where we came from regardless of what it cost. To heck with your SSI check!
Thought for the day, my mom told me once I was just a twinkle in my dad's eye! I want tell you what granpa said!
Word for the day; Twaddle.