Hi gang Frances is raging across Florida. Not as bad as it could have been but will leave havoc in its path. We will see some of the heavy rain here Tuesday and Wednesday but nothing like they are going through right now. My thoughts will be with them today. Hard to belive another is right behind Frances.
Photo Sunday!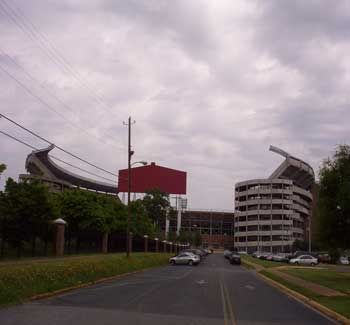 It all started on the Quad. From 1893-1914 games were played on the Quad and later University Field, which was renamed Denny Stadium after former president George Hutcheson Denny. His tenure as president of the university began in 1912 and spanned almost a quarter of a decade.
Denny stadium opened on Sept. 28, 1929, with a seating capacity of 12,000. In 1946, the seating capacity rose to 31,000 following the addition of bleachers in both end zones. By 1988, the seating capacity was 70,123 following the addition of 12,000 seats, the press box and an elevator in 1961 and a 1966 addition of at least 17,000 seats. The stadium also took on another name.
In 1975, the state legislature voted to rename the stadium "Bryant-Denny" in salute to Tide coach Paul William "Bear'' Bryant. 1988 saw the addition of the west upper deck, and a decade later, Bryant-Denny was mirrored with an east upper deck, along with two levels of skyboxes. Bryant-Denny now holds 83,818, making it the fourth largest stadium in the SEC. Tennessee ranks first with 102,854 followed by Georgia (86,117) and Auburn (85,214).
In 1999, four additional skyboxes were built to bring total skybox capacity to 85. A scoreboard with video display capabilities was erected in the south end-zone, as well as new light towers for the east side of the stadium. A new east side entrance tower a brick facade and reception areas for the Scholarship and A-Club level patrons was also added during the 1998 expansion
Bryant-Denny has long been a stadium feared by opponents. The Crimson Tide owns an impressive 185-32-3 all-time record at the stadium, and has boasted sellouts at 56 consecutive Tuscaloosa games since 1988.
In March 2002, the UA Athletic Director Mal Moore announced plans for a $100 million renovation of all athletic facilities through the Crimson Tradition Fund. Part of the project includes expanding the north end zone of Bryant-Denny Stadium and building a plaza area leading into the north gates. The plans indicate sky-boxes, a club level area and traditional upper deck seating, creating a complete bowl. The expansion should add approximately 10,000 seats
I have to complete the story by saying….. Youth movement: Newcomers come up big as Alabama swamps Utah State 48-17. Last night was our first game. We are hoping for a good year. ROLL TIDE!
Thought for the day. Sometimes I feel the worlds pain in my mind like the constant ringing in my ears!
Word for the day; Wraith.