Yep Seven Days
Hi gang, I hope every one had a great Mothers Day weekend! We had a good day. As usual, way too much to eat, I felt like a tick when I went to bed last night I was so full I had to skip desert! (Dang)
It's nice of all the PGA tour players to keep giving VJ the game. Garza blew a six-shoot lead, Phil and Tiger showed up for publicity! Oh well I blew it again this week too. I was in the lead and blew it on the last three holes. I only play this game because I like to Yale at the ball! It never wants to go where I hit it.
Would you believe our seven-day forecast! RAIN EVERY DAY! QUACK QUACK!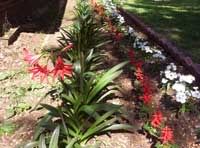 Thought for the day, my grandpa use to say son, more girls get PG when it's raining than any other time. You would think they would have figured that out by now!