SILENCE
Hi gang what a TGIF! I have such a multitude of choices to talk about it is hard to get started. The grand debate last night, Mt. St. Helen is trying to wake up. A new element has been found in Japan.
Two great football games this weekend, Auburn at Tennessee and Virginia at Alabama. The American Express Championship in Ireland. Ernie Else is leading with Tiger five back.
We have the Twins this weekend and their sister. I could tell a story just on them. They are growing like weeds!
Any of these would make good stories however I would like to tell you about a tiny village I visited on line today.
Changshou Chun, literally the "Village of Longevity''
China, this tiny village has just recently had its first ever foreigner visit their community.
The village has 250 families 1036 total. 127 of these are over 70! Last year their oldest residents died one 105 the other 103.
They credit their longevity to hard work, simple food and good water.
One 90 year old thinks it is their attitude. Smile be happy!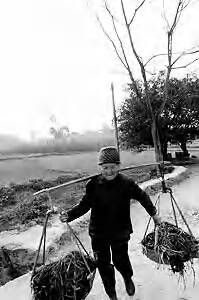 WORK IS A HABIT: "I feel uncomfortable if I do not work in the field," said Madam Liang Damei, 88, as she hoisted a heavy load of fertilisers on her shoulder
Last year the village had 10,000 visitors. All wanting to learn their secret to long life. They're determined to keep the village from becoming spoiled. They look forward to new positional revenues from the visitors. Taking their little money and building a public washroom and cementing a path along the river. The average income in the village is $650.00 per year.
I fell in love with this place and the smiles of the people.
Ok gentleman, I don't want you to think I forgot you.
Silence
is golden!
Thought for the day, my granpa use to say son, respect you elders. Some day you will be one yourself!