NEW HAT
Hi gang can you see it yet! Saturday is just over the horizon! Start making those plans for a wonderful weekend. Today was decision day! How to pay for my wife's new car? Savings, loan, or home equity! I hate making these kinds of decisions. Wouldn't be grate if the motor companies would just give you a new car every three years. You would just pay so much a month as long as you live.
Not bad we could expand this to houses, appliances. Vacations and etc! One low monthly payment. Less see at today's market that would be $5000.00 a month/60,000 a year. Of course you job would be garneted a job to cover your expenses plus spending money and incidentals. That would give you total income $100,000 a year! Excuse me I got to call Kerry! He might have time to get this on his platform!
Jumping around the other day I ran across the sexist hat I have ever seen! They will sell millions of these. They will be fighting in line to buy the latest colors!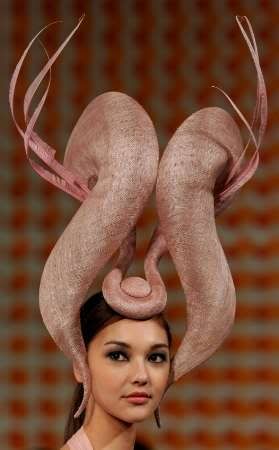 A model presents a creation by Indonesian fashion designer Didi Budiardjo during Hong Kong Fashion Week for Spring/Summer 2005, in Hong Kong July 13, 2004. REUTERS/Kin Cheung
Thought for the day, it accrued to me today that only the wealthy women ware hats with any consistencies!