"I told them to play with thais one"
Hi gang the weekend be with you. I hope everyone had a Good Friday. For those who know me you know what I did today. I will give those who don't know me well a hint.

Ryder Cup USA is playing Europe! What a day. The best golfers in the world head to head! We didn't fair well today as we were expected to. That is golf. Any one of on any given day could win.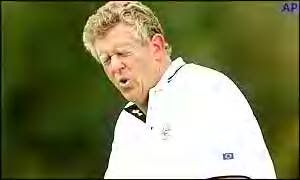 Oh! It s so nice to beat the Yanks!
In an interview with Hal Sutton, he said, "I gave Tiger a ball and told them to play with this one!" He was talking about the different balls Tiger and Milkelson play. He chose for them.
Roll the ball in your hand while listening to the CD before every put!
Just think Hal is the TEAM CAPTIN! Well they have two more days to put it together. I watched the opening ceremony last night I know now where all the beautiful women are. The Pro Golfers have them all!
Thought for the day, who ever said it is not weather you win or loose but how you play the game was not a golfer!