IS THERE A DOCTOR IN THE HOUSE
Hi gang is every one having a good weekend. Auburn squeaked by LSU today. They are happy on the plains tonight. Alabama is playing an unranked team? I guess they do that to get more home game money!
Things don't look too good at the Ryder cup but I have taken measures to help out!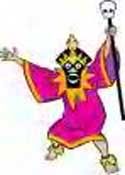 Doc. is going to put the mojo on them!
Have you ever had a friend say something and you just had to say something back! Let it go, heck no! Why can't we just let it go? Retaliation got to have the last word, smart arras! What is it? I always feel badly after the fact. However for some it rolls off like water on a ducks back.
I have trouble remembering if you can't say something nice don't say any thing at all! Who said that? Well it appears it is an old adage! In the movie 'Bambi' Thumpers father told it to him. Wise old rabbit!
Thought for the day, it would be nice to soak up books like a sponge!