HOT STUFF
Hi gang I would be hard pressed to tell you where today has gone to. I just can't keep track of time. Well so far Bama has lost to South Carolina but Alburn is putting a hurting on Tennessee!
Ernie Eles looks good to win the American Express. $1,000,000,000 not a bad pay check for four days work!
Every one down this way is pulling for JR. At Talladega tomorrow. He is due to win and he loves this course!
I have had this picture for a month to share with you. The story comes out of New York City. They are having under-ground fires and have not pin pointed the problem. Meanwhile man-hole covers are flying through the air from explosions are hot. This young lady found out the hard way. She fall on a man-hole cover and it burned her. Her skate board was reported to be ok!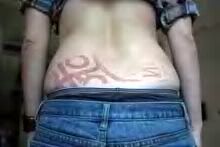 Thought for the day, the house sure is quite with the kids gone home!