Come fly with me
Hi gang can you believe it is Friday already! Like that guy that says "I can't believe it's not butter." I suppose it's like the old saying 'time flies when your having fun.' We have rain moving in they are forecasting rain for the next week! I will have to hang a happy face on this puter!
These are exciting times we're living in. I have so many things to talk about but I am going to choose only one. There is a lot happening in science, electronics, transportation but I am picking one that is really two!
Art and architecture, how wonderful when combined to make a masterpiece. Fest your eyes on this marvel of engineering…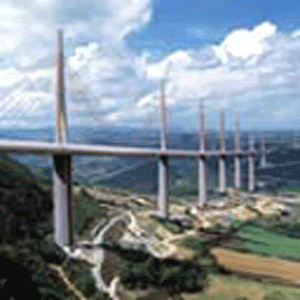 An epic works of art ... the Grand Viaduc du Millau.
Come fly with me
Inspired by the Eiffel Tower, Norman Foster has created one of the world's most breathtaking bridges
This span of bridge only takes about a minute to cross but it has transparent curtains. You can see all around. It is a great story and I don't want to spoil it for you. Here is the
link
you must read the story! Enjoy my friends.
Thought for the day, I have a granddaughter in the hospital with some kind of various my prayers and thoughts are with her!