Tuscaloosa on the Black Warrior
Hi gang I hope every one has had a good weekend. Sunday is flying by. I have not given you any thing on my area in a while so tonight I am giving you a little history on the town and the river that runs through it know as 'THE BLACK WARRIOR.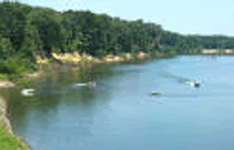 The river has played an important part in the history of the area all the way back to the Indians who lived here long before the white men came. I live two miles off the river called Holt/Peterson. The area has boomed economically over the last twenty years. Small but not to small we have just about everything a city could ask for.
This is a block drawing of the river down to Mobile Al.
These are some links for you to learn more about where I live. We love it and I hope you enjoy your journey through Tuscaloosa Alabama.
Tuscaloosa
Black Warrior
Black Warrior org.
Thought for the day, have you ever felt like you was sand slipping through an hourglass!