Getting Closer
Hey gang, Monday down and in my area a soggy one. Man did we have rain! Thunderstorms swept through all afternoon. I looked like I was wearing a fur coat with all the dogs trying to get into my pocket. It took most of the evening far them to column down.
Have you guys been getting a lot of e-mail jokes and weird things? I have, I would like to share some of them but I get so much, if I forward them I feel like I am spamming you guys! I am posting this one about the Cat Fish. You would not believe it if you didn't see it. There were five pictures but I am only giving you Three to shorten it a little…
A Fish Story
This was a pretty interesting story from The Sunday Wichita Eagle Newspaper a couple of weeks ago. A resident in the area saw a ball bouncing around kind of strange in a nearby pond and went to investigate. It turned out to be a flathead catfish who had obviously tried to swallow a child's basketball which became stuck in its mouth!! The fish was totally exhausted from trying to dive, but unable to because the ball would always bring him back up to the surface. The resident tried numerous times to get the ball out, but was unsuccessful. He finally had his wife cut the ball in order to deflate it and release the hungry catfish. You probably wouldn't have believed this, if you hadn't seen the following pictures...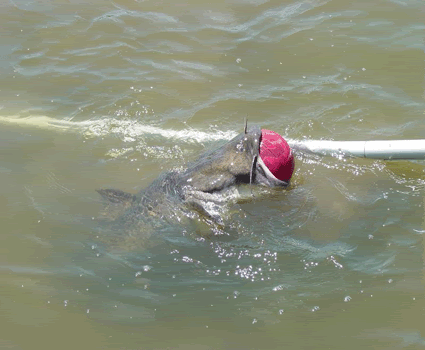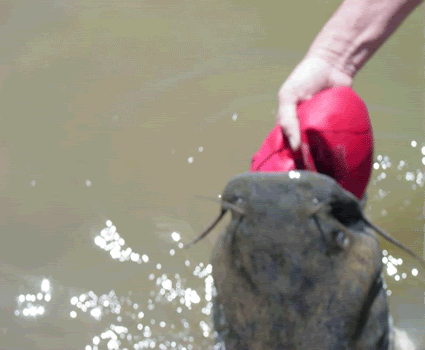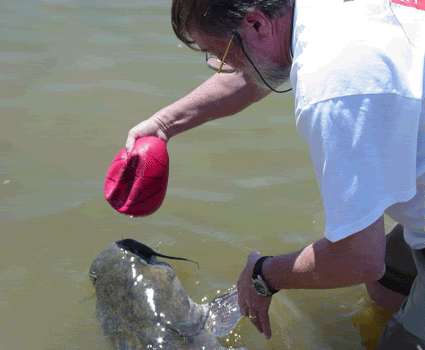 I got the closet painted yesterday. Today I want to put up new blinds and install new doorknobs. I have some of my paintings out trying to see the best place for them. I am going to give that some thought today. My computer desk is already full of junk! Clutter, I just can't seam to get around it.
Thought for the day, starting the day with a plain is better than wandering what you are going to do today!