Pony Tail
Hi gang Friday evening is finally here fir you. I hope every one has had a good day. I have not said but I have watched Tiger in the Target Challenge for the last two days. Two more to go. He looks good but so does Monty!
I ran across an interesting article today. If you like art and I do. It is about a 19 year old girl that Pablo Pasco met . Sylvette David experienced sudden fame in the 1950s, when Picasso asked her to sit for him and she became the subject of more than 40 works. Anthony Harrison hears her
story
at the ancient Provençal farmhouse where she has finally found peace. Pablo and the ponytail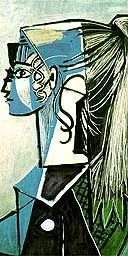 Hair do... Portrait of Sylvette David in a Green Armchair, 1954, by Picassom
Thought for the day, in the twilight of my years I experience first hand the mystery of MC2!