DID YOU HAVE TO…
Hi gang and good morning! I got in to late to talk to you last night. My wife's best friend had an x-mass party at there home last night 8 couples and our parish Pastor. As usual I eat too much, drank too much and talked too much.
She makes the most tantalizing wonderful Shrimp Gumbo! My best friends wife makes the most sinful Cherrie Cheese Pie! I just about floated home. It was so good! I envied myself back for leftovers. Oh yea, I brought home a small piece of the pie it weighed about a pound and a half! I checked on it this morning o make sure no grubby little hands got into it!
One of my best golf buddies just came back from Ohio on the border of Michigan and they got the lake effect! From Lake Superior. For those of you who don't know what the Lake effect is here is a pic. Of the guest- house they stayed in…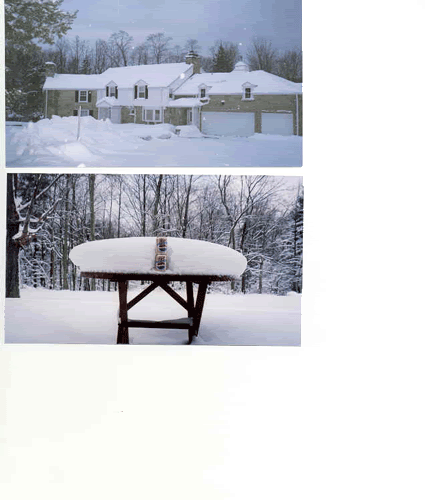 I asked him if he had to take a pic. Of all that snow and send it to me! They had 19" in two days. I hope he left it up there! This morning his family left for Orlando Disney World for ten days! Poor frozen guy!
Thought for the day, I toasted all of you last night, have a wonderful Christmas week!